UDS offers a wide range of products and services which enable rehabilitation providers to document the severity of patients disability and the results of medical rehabilitation in a uniform way. Rehabilitation providers across the postacute care continuum have found success with UDS as it addresses their needs.
For more than 30 years, UDS has been a leader in medical rehabilitation outcomes data. Today, UDS maintains the world's largest government-independent repository of rehabilitation outcomes and IRF-PAI data. This is possible by data contribution from over 1,400 rehabilitation facilities worldwide. 900 of these are inpatient rehab facilities (IRFs) in the United States that use UDS reporting, credentialing, auditing, training, and consulting services. UDS is highly effective at enabling healthcare providers and related entities to document and improve the outcomes, processes, and perceptions of care in uniform ways.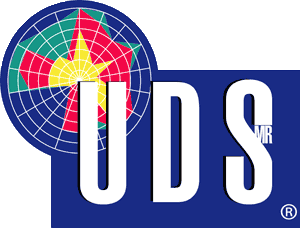 How to best use UDS Reports
1. Start With This Key Building Block Comprehensive Program Report (CPR)
The CPR provides a thorough review of your program;s results on key clinical, financial, quality, and demographic indicators, and its filter selections allow for countless data combinations. Beginning on page 3, the report provides summary quality measure (QM) performance information. This data is a starting point for subsequent quality measure analysis using the reports outlined in steps 2 and 3 below. After reviewing this report for all patients, try running it for your largest RIC. This report should be run frequently.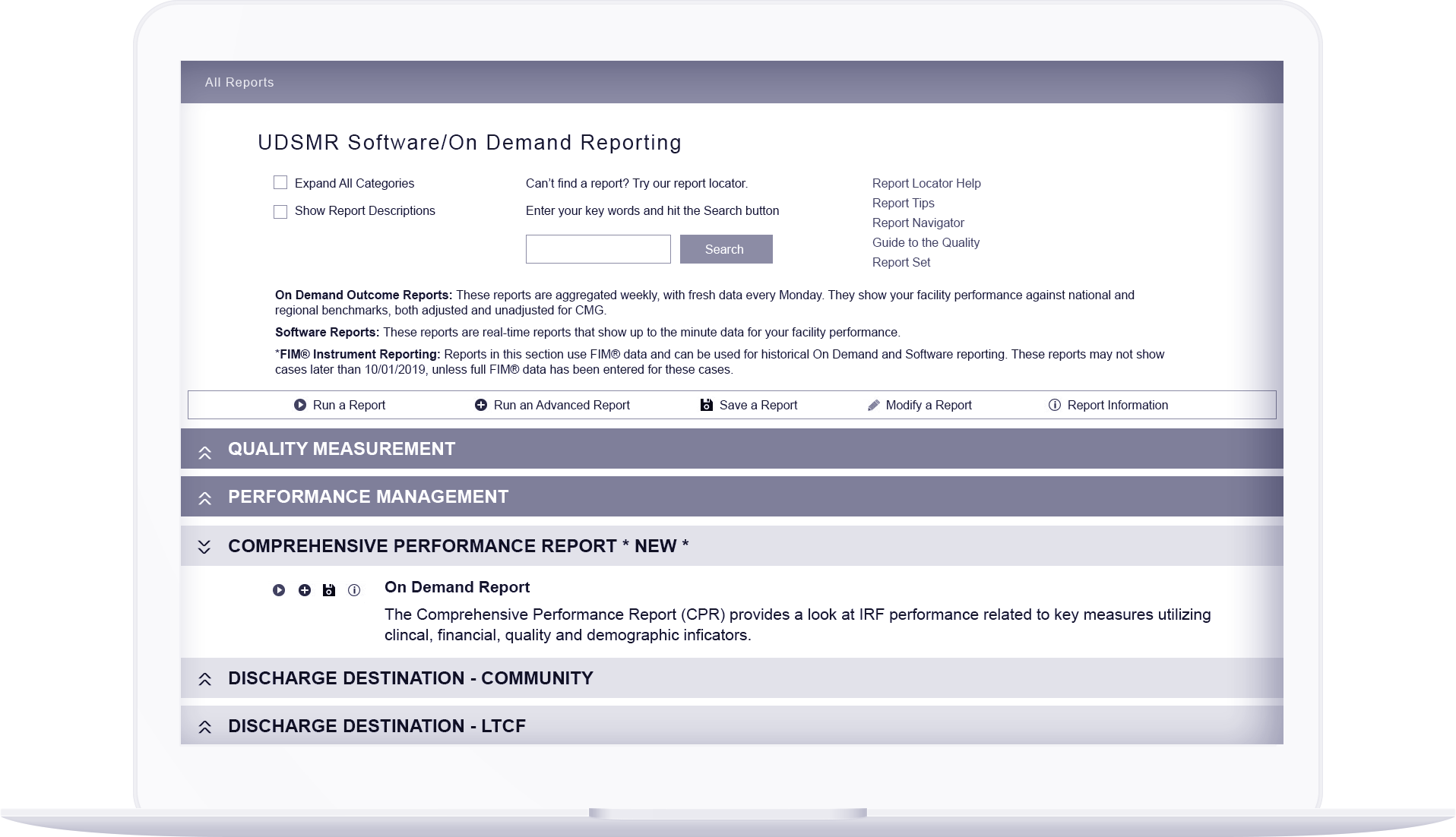 2. Expand your Analysis
Data Completeness
The roll-up summary and patient-level details in this report help you monitor your 95% threshold for data completeness, avoid a 2% payment penalty, and pinpoint correction and re-submission opportunities. The software version of this report allows you to include patients in care, while the on-demand version includes only discharged cases. At a minimum, the on-demand report should be run routinely on calendar year or quarter as part of your data quality checks.
Functional Quality Measures Summary
This one-page snapshot of your program's performance on CMS's IRF Quality Reporting Program (QRP) measures is a valuable precursor to your data on CMS's IRF Compare website and UDS PEM 2 Report.
Drug Regimen Review
The on-demand version of this report provides a snapshot of your facility's percentage of cases for which a drug regimen review was conducted at the time of admission and/or a timely follow-up with a physician occurred, along with national comparative values. The software version provides patient-level details.
Medicare Changes in Skin Integrity
Preset for all medicare payer combinations, this report summarizes CMS's IRF QRP changes in skin integrity quality measure. The initial summary table's case counts and percentages help you quickly identify the specific pressure ulcer/injury stages where changes may have occurred.
Medicare Falls
This report provides your facility's observed average values for the percent of Medicare patients who experienced one or more falls with major injury, based on IRF-PAI items J1750 (collected at admission) and J1800-J1900 (collected at discharge). IT also provides national observed comparative values.
3. Drill Down Into The Details
Admission and Discharge Functional Status (Section GG) Scoring
These graphical reports plot your program's average section GG codes at admission or discharge with national overages and adjusted expectations. This report replaces the FIM instrument-based Scoring Report.
Contact Us
If you are new to UDS or you need support, please contact us. We also have subscriber resources and online workshops that help optimize your efficiency.