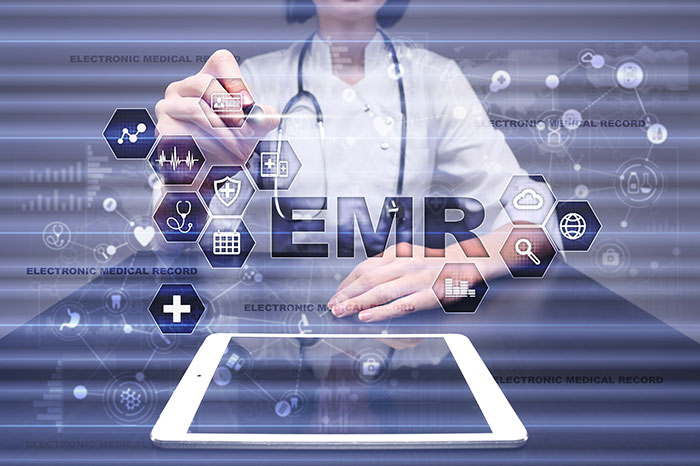 Netsmart acquired UDSMR in March 2022. Prior to this acquisition, Netsmart and UDSMR had been partnering to build the RehabConnect™ System within the Netsmart CareFabric® solution. Since the acquisition, our teams have worked together to merge both products into one, and we are excited to announce RehabConnect™ 2.0, the next generation of the UDS‑PRO Doc™ System!
The RehabConnect™ System helps clinicians and rehab coders generate accurate ratings by combining the two requirements of documenting care and rating items on the IRF-PAI into one task. Designed to interface with other hospital information systems in order to improve efficiencies and eliminate errors, our IRF system is capable of warehousing as much clinical data as your facility desires. Its design also allows it to interface with electronic health record (EHR) and electronic medical record (EMR) systems that your facility may already be using.
The RehabConnect™ System is designed to meet all of CMS's very specific requirements for IRF documentation, many of which are not included in the most common electronic documentation systems. Our advanced tools also help clinicians keep up with proper documentation to make sure everyting meets the requirements for Medicare's IRF-reimbursement. The documentation templates include FIM® logic that helps clinicians determine accurate ratings throughout each patient's stay, and the clinical documents include the quality indicator items required on the IRF-PAI. The design of the system allows users to efficiently review all required data and to save the information directly to the IRF-PAI, and its administrator tools facilitate oversight of required tasks and time frames related to compliance.
RehabConnect™ Advantage
IRF System framework
Cloud or facility-hosted server options for working in Citrix and VMware environments
Instant exchange of IRF-PAI data between the RehabConnect™ System and the UDS-PROi® software
A wide choice of installation options, including:
Simple, noninterfaced, out-of-the-box setup
Comprehensive, seamless HL7® interfacing with EMR and billing systems exchanges
Automated PDF clinical document exchange to medical records for concurrent information and storage
A billing module that incorporates the hospital's chargemaster into appropriate therapy documents for easy integration of therapy codes and units of service back to the billing system in real time
Simplified sign-on and enhanced security with optional LDAP/SSO solutions
Semiannual updates that maintain CMS's latest IRF PPS standards and requirements at all times
Clinician tools
A collection of ready-to-use physician, nursing, and therapy templates
Facility-defined mandatory fields and/or discipline-specific expectations within documents
Built-in section GG coding assistance, including detailed drop-down selections
Copy-forward functionality with clinician access set by administrative users
Integrated therapy tracker that compiles minutes and modes, transfers information to the IRF-PAI and provides weekly summaries of your patients' daily compliance with CMS's therapy-intensity rule
SmartQI™ logic that tracks the patient's initial assessment and all other relevant QI documentation and recommends the optimal admission and discharge codes
Electronic "sticky note" feature that facilitates real-time team communication about the patient
Quickly assembled plan of care (IPOC) and weekly team conference, compiled from relevant clinical assessments and progress notes
Administrative oversight
Individual end-user to-do lists with automatic reminders and warning flags for missing or pending CMS requirements or facility-defined criteria
Report views that trend patient data for numerous variables, including therapy minutes, section GG codes, vitals, education, and pain
Real-time document status reports and other oversight tools that provide elevated views for managing entire documentation processes
Collation of all pertinent information into one location for easy review before data is committed to the IRF-PAI
RehabConnect™ System Technical Benefits
Smart Client Technology: The system uses Microsoft's new "smart client" technology. Microsoft® smart client applications combine the ease of use of Microsoft® Office desktop applications, the performance of client-server applications, and the reach of the Internet.
The result is unparalleled ease of use and performance within a secure, multi-user database environment. Utilizing this technology, the RehabConnect™ System can be accessed through any Internet-enabled computer—and, at the same time, the system can interface with any hardware device (e.g., scanners) on the user's computer or network.
Powerful Interfacing: The system uses an HL7® interface to communicate with other hospital information systems already in use, providing the power to pull all the patient's information into the RehabConnect™ System and to have all the critical information on display in one place. The interface improves efficiencies between hospital systems, eliminates errors due to "double data entry," and ensures accurate information across all systems.
RehabConnect™ System Clinical Documents
The RehabConnect™ System includes a comprehensive set of templates that allow clinicians to develop their own documents for capturing the individualized evaluations, treatments, and care they provide to their patients, as well as their patients' progress. Comprehensive documentation by the entire rehabilitation team illustrates the interdisciplinary planning and care provided during the preadmission evaluation and throughout the patient's rehabilitation stay.
Documents can be customized to meet your facility's needs. Additional standardized assessments may be added as a customization.
As a time-saving feature, the software provides copy-forward capabilities that can be used when the patient's medical or functional status remains unchanged from one document to the next.
Most areas of the system include free-text fields. These fields allow users to record notes of more than ten thousand characters.
Software administrators can define facility-specific required fields for any clinical document template.